Contact Us
Custom Pre-Inked Stamps
Up to 8 lines of information
Not available in California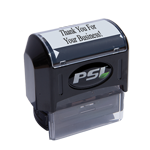 Small Custom Pre Inked Stamp
The "Small" stamp has 3 lines of print and measures: 11/16" X 1 15/16"(17mm X 49mm).
Not available in California
Medium Custom Pre Inked Stamp
The "Medium" stamp has 4 lines of print and measures: 7/8" X 2 3/8" (22mm X 60mm).
Not available in California
Large Custom Pre Inked Stamp
The "Large" stamp has 5 lines of print and measures: 1" X 2 5/8" (25mm X 66mm).
Not available in California
Extra Large Custom Pre Inked Stamp
This "Extra Large" stamp has 8 lines of print and measures:1 1/2" X 3 1/4" (38mm X 83mm).
Not available in California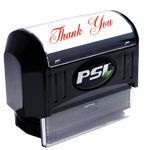 Thank You Pre Inked Stamps
Pre-inked stamp with the thoughtful words "Thank You". Available as is, or with your further customization.
Not available in California.
IRS Pre Inked Stamps
Accounting and Tax Professional IRS stamp with customizable address.
About Custom Stamps:
Each personalized stamp from Bank-A-Count holds up to 8 lines of information. These pre inked customized stamps are easy to use for a variety of projects.
Every personalized stamp is designed to work without a stamp pad. These low cost customized stamps allow you to save 50% or more compared with other sites.
Customized stamps are available in four sizes: small, medium, large, and extra large. There is also a Thank You stamp option.
Each personalized stamp can be purchased in a variety of colors.
Have questions about any of our products? Give us a call.
Speak to one of our knowledgeable customer service reps at
1-800-445-3913.