Pre-Inked Stamps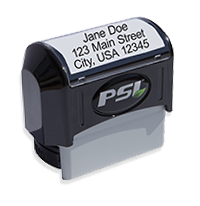 Pre-inked Stamp Features:
Personalize most of our stamps
LOW COST - Save 50% or more compared to other websites.
Stamps made for endorsements, return address, signature, initials, or anything you need!
Pre-inked stamps are designed to work without a stamp pad.
Pre-inked stamps are easy to use and re-ink.
Great for the office, home, and school projects.
RUSH delivery available for an added cost.
Square Stock Image Stamps
Square Initials Stamps
Square Custom Image Stamps
Instantly put your return address on envelopes!
Add a personal touch to your business or personal correspondence
Save time and effort with a press and print version of your signature!
Cover personal and sensitive information on items such as:

Direct Mail
Magazines
Credit Card Offers and more. . .

Eliminates the need for bulky, noisy, and expensive shredder
Small - Medium - 1 to 4 Lines
Large - X-Large - 1 to 8 Lines
Tired of endorsing checks by hand? Try a pre-inked endorsement stamp!
Have questions about Pre-Inked Stamps? Give us a call.
Speak to one of our knowledgeable customer service reps at
1-800-445-3913.