Bank-A-Count's Shipping & Production Policies
Orders received after 2 p.m. CST will go into production, upon approval if applicable, the next working day. Working days are Monday - Friday, excluding major Holidays: New Year's Day, Memorial Day, Independence Day, Labor Day, Thanksgiving Day and Christmas.
Shipping Services vary from UPS and USPS. Typically, UPS does not have Ground Service on Christmas or New Year's Eve. UPS Ground orders expecting to ship that day will be shipped the next business day after New Year's Day. USPS Postal Holidays in addition to the holidays noted above are: Martin Luther King Jr Birthday, Washington's Birthday, Columbus Day and Veteran's Day.
Shipping costs will depend on the method and option that you choose. We strive to keep the shipping costs at a minimum while maintaining security of your products. By default we use the following shipping methods if no specific shipping method is selected.
Computer Checks - UPS Ground
Personal Checks - USPS Standard Mail
Manual Checks - USPS Priority Mail
Payment Coupon Books - Most orders go to the end user via USPS first class mail. Bulk orders are shipped to the ordering client by the method you choose. Orders over 10 lbs require a signature.
Letter Mailings and Statements - USPS First Class Mail
Other Business Products - Most economical method of shipping to your specific location
Orders containing multiple products; such as business checks, deposit tickets and stamps; will be shipped together to minimize shipping costs. These orders are expected to ship based on the longest time schedule below on the products ordered.
Production Schedule
Bank-A-Count is an on-demand digital printer and mail fulfillment company; turnaround time is one of our main focuses. We strive to meet the schedule below every day and on most days will surpass this production schedule. There are occasional high production days where some orders may take additional time. On new imprint orders where we need to setup the design such as business checks, production time starts once a sample is received. Production time also follows any proof OK's that may be required.
STOCK ITEMS: Next Business Day. Blank Check Paper, envelopes and other non-imprint items.
LETTER PRINTING/MAILING: Next Business Day. Nov 15 - Dec 24, additional 1 day.
PERSONAL CHECKS: Next Business Day.
COLOR COPIES, POSTCARDS, SELF MAILERS, PROXY BALLOT MAILINGS:
3 Business Days.
Quantities 2,500+ add 2 Business Days.
IMPRINTED ITEMS: 2 Business Days. Business Checks, deposit tickets, stamps.
PAYMENT COUPONS & BILLING STATEMENTS: Next Business Day. Orders of 2,500+ add 1 day. Nov 15 - Dec 24, additional 1-2 days.
ENVELOPE PRINTING: 3 Business Days on order requests that include printed envelopes.
Nov 15 - Dec 24, additional 1 day.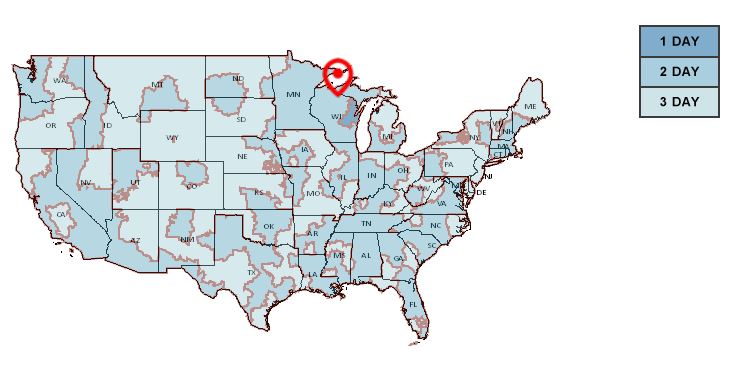 Updated: Feb. 2018