Computer Business Checks
for Quickbooks® Software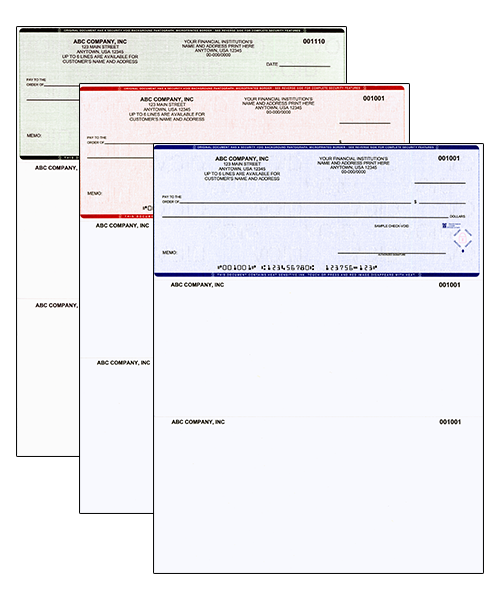 Checks are available with or without lines.
These checks work with all versions Quickbooks

®

, and will save you money!
Choice of colors: blue, green, tan, or burgundy.
Choice of check positioning on the page or three checks per page.

We expect that these prices will be among the lowest prices you will find Computer Business Checks for Quickbooks.
Quicken and Quickbooks are respective trademarks of Intuit, Inc. Bank-A-Count Corp has no connection to Intuit or Quickbooks.
QuickBooks checks from Bank-A-Count will work in all versions of QuickBooks. The most ordered computer check style for QuickBooks is the voucher style with the check on the top of the page. Another popular style used for QuickBooks is the 3-on-a-page with the price per check being a little less than the voucher style.
QuickBooks Checks as a Business Tool
Business checks for QuickBooks is an efficient tool when using QuickBooks software. When using QuickBooks check printing, you not only provide a negotiable document to make a payment for a product or service; you also create a transaction in QuickBooks that is used for monthly, quarterly and year-end accounting procedures. The business check also serves as a traceable document that also serves as a receipt for payment of an invoice. The efficiencies gained in using QuickBook Checks easily outweigh the minimal cost of the business checks.
Business checks have stood the test of time for hundreds of years and continue to be the preferred method of payment partly due to the accounting functions it creates in QuickBooks once it is printed and accepted for payment.
Benefits of QuickBooks Checks
The benefits to order QuickBooks online checks from Bank-A-Count include guaranteed compatibility, next business day shipping, easy order entry online, and the best possible price.
QuickBooks checks come in a number of formats and colors to match your unique business. This allows you to color coordinate the checks with your other marketing material. Adding your unique custom logo for a one-time minimal cost will help in the branding of your company.
Frequently Asked Questions
The order entry system that we have is very easy and quick to use. Common questions that we receive when placing orders for QuickBooks Checks include:
Can I order checks with lines or without lines?
QuickBooks software supports both formats and you can select either option. When selecting this option, you are choosing to have the lines printed in the Payee area. This selection is separate from the signature lines. Most do choose to have the lines pre-printed by Bank-A-Count Corp.
Do all Quickbooks versions use the same check format?
QuickBooks has three formats; Voucher Style Check on the Top, Wallet, and 3-on-a-page. All unaltered versions of QuickBooks use the same check format for both the voucher and the 3-on-a-page styles.
If I currently have the wallet style checks for QuickBooks, can I use the Voucher Style?
Yes. QuickBooks has the ability to switch between the different check styles, simply select the Voucher Style when using the voucher check style.