Personal and Business Checks

Checks for use with software and printer.
Read More About Computer Checks

Manual business checks, available with carbonless duplicates. Choose from a variety of stub options to suit your accounting needs.
Read More About Manual Checks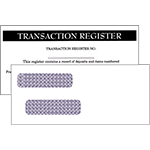 Envelopes, Transaction Registers, Checkbook Covers, Address Labels, and Binders
Read More About Check Accessories
Completely blank paper for printing checks
Read More About Blank Check Stock
Bank-A-Count offers a wide variety of computer business checks, manual checks, check accessories, and even blank business check printing paper.
Computer business checks can be used with your software and printer to streamline your business. Each computer business check serves as a transaction that the software uses for various accounting tasks, such as budgeting or year-end accounting for tax purposes. Computer checks are available in four popular styles: checks on top, checks in middle, checks on bottom, and 3 checks per page. Each style is designed to be compatible with your software. Select from a variety of colors and even upload your logo to make your voucher checks unique to your business.
If you prefer to handwrite your checks, there are two options available: manual business checks and duplicate manual business checks. These checks come 3 to a page and are designed to fit in a manual check binder. For further customization of your business check, select from several stub imprint options.
Check accessories are used to keep you and your checks organized. Two business check envelopes are available. These envelopes are specifically designed to fit your business checks, so mailing is easy! In addition, Bank-A-Count provides the opportunity to purchase check registers, checkbook covers, a checkbook binder, and address labels.
Do you prefer to print checks on blank check stock? Bank-A-Count also offers a selection of blank business check printing paper. Like the computer voucher checks, blank check paper comes in four styles and four color options.
All voucher checks and blank business check printing paper from Bank-A-Count is of high quality paper. Business checks with logo ship the next business day standard, although expedited shipping services through UPS are available. Rush delivery options require a signature for delivery.
Order business checks online today!