Business and personal check products
Business Checks

Guaranteed to work in your accounting software including Quickbooks, Peachtree and 3,000 other titles. Our computer business checks are offered in top, middle, bottom and 3 per page styles. You can also add your company logo for a one-time minimal fee. Manual 3-to-a page checks are also available. Computer Check Prices

Stamps

Save time and money with these high quality pre-inked stamps. Perfect for office, school or personal use. Stamp Prices

Deposit Products

Choose from duplicate book form, computer printed deposit tickets or 3-on-a-page deposit tickets.

The most cost effective way of ordering business check essentials for your small business. The components were put together as a business product to give you the best price and meet your needs.
Collecting payments from clients is easier when using a payment coupon book from Bank A Count Corporation.
Read More About Payment Coupons
Collect payments from your customers.
Read More About Statements

Checks for use with software and printer.
Read More About Computer Checks

Manual business checks, available with carbonless duplicates. Choose from a variety of stub options to suit your accounting needs.
Read More About Manual Checks
Custom and stock pre-inked rubber stamps for endorsements, signatures and more!
Not available in California
Read More About Stamps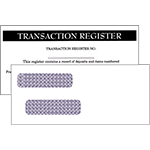 Envelopes, Transaction Registers, Checkbook Covers, Address Labels, and Binders
Read More About Check Accessories

Deposit tickets, deposit books and related
Read More About Deposit Products

Completely blank paper for printing checks
Read More About Blank Check Stock

Save up to 33% off our already low prices by ordering a product bundle! Learn More!
Order A Bundle Now!