Bank-A-Count's Statement of Support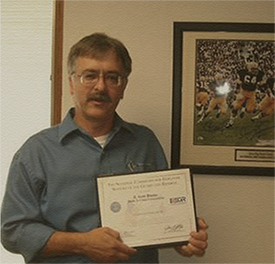 Friday, Nov 25, 2011
Scott Blanke, president of Bank-A-Count Corporation signed a Statement of Support on Sept. 29, pledging its commitment to stand behind its employees that serve in the Guard and Reserve. Blanke was also presented with a Patriot Award. The Statement of Support signing is part of the Employer Support of the Guard and Reserve initiatives that encourage positive relationships between employers and their Guard and Reserve employees. Bank-A-Count is being recognized nationally for the company's proactive policies affecting its military employees.
When a company signs a Statement of Support, it recognizes the National Guard and Reserve as essential to the strength of the nation and the well-being of communities.
"Wisconsin's Reserve and Guard members deserve the support of every segment of our society," said Al Wilkening, retired Major General, chairman of Wisconsin's ESGR Committee. "In the highest American tradition, the men and women of the National Guard and Reserve serve voluntarily in an honorable and vital profession. They train to respond to their community and their country in time of need."
Bank-A-Count Corporation joins other employers in pledging that:
Employment will not be denied because of service in the National Guard and Reserve.
Employee job and career opportunities will not be limited or reduced because of service in the National Guard and Reserve.
Employees will be granted leaves of absence for military training or service in the National Guard or Reserve, consistent with existing laws, without sacrifice of vacation.
This pledge of support and its resultant policies will be made known throughout this organization.
---
Edited: Wednesday, November 4, 2015