The Department of Defense Award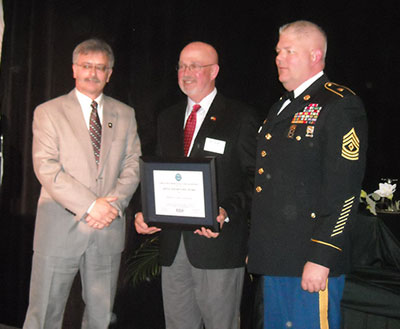 Tuesday, Nov 1, 2011
Bank-A-Count Corporation was presented with the prestigious 'Above and Beyond Award' at an April 17 banquet held by the Department of Defense's agency,The Wisconsin Committee for Employer Support of the Guard and Reserve (ESGR).
The award recognizes employers at the state and local level who have gone above and beyond the legal requirements for granting leave and providing support for military duty by their employees.
To be considered for this recognition, employers must be nominated by an employee serving in a Reserve Component (RC) of the United States military and must provide support exceeding what is required by federal law. In 2009, over 250 Wisconsin military service members nominated their employer for recognition of their support. Bank-A-Count was one of nine selected as providing the most exemplary support in 2009 to it's employees, and was one of just three Wisconsin companies with less than 500 employees to receive the award.
Scott Blanke accepted the award on behalf of Bank-A-Count in honor of Ronald Stoflet who recently returned from a deployment to Iraq. "We as employers owe our deepest gratitude to our citizen soldiers. The true heroes are the men and women who serve our country. I am humbled to be standing here among them, and I encourage each and every employer to give their employee soldiers and families the very best support possible." said Blanke, President of Bank-A-Count.
"Scott has been extremely supportive of my military duty over the past 20 years and has always given me the extra time to take off to participate at drill or additional training assemblies." said Ronald Stoflet whom recently returned back to work after a 2-year military leave of absence. "Bank-A-Count is a small company and it places a burden on the company while I am gone, especially for this long."
---
Edited: Friday, May 6, 2016