Bank-A-Count Loses Beloved Patriarch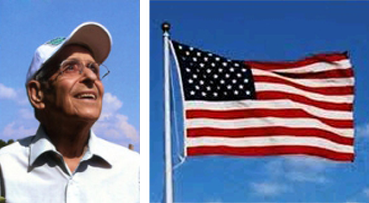 Tuesday, Nov 1, 2011
Darwin "Dar" A. Blanke, 87, of 2520 Ridgewood Trail, Wisconsin Rapids - dear husband, father, brother, grandfather, great-grandfather, partner, friend, tower of strength, and wise counselor to many - died Sept. 4, 2011, at Riverview Hospital. To those who knew him, he was larger than life.
Dar was born in the Town of Lyndon, Wisconsin to Clarence and Leona (Falk) Blanke on Sept. 20, 1923, and married his beloved wife, Elizabeth "Betty" Jones of Brookhaven, Miss., on July 3, 1949. For the next 59 years, and through a decade in which he tenderly nursed her through the cruel course of Alzheimer's disease, Betty remained the center of his life. She preceded him in death on June 16, 2008.
As a staff sergeant in the 309th Infantry Regiment of the 78th "Lightning" Division, Dar spent the winter of 1944/45 in the bloody foxholes of the Battle of the Bulge and he was among the first troops to cross the Rhine River at Remagen. For 50 years, he refused to speak of the carnage of battle, but like others in the "greatest generation", he took quiet satisfaction in his service, for which he was awarded the Bronze Star and Purple Heart.
A successful business leader of extraordinary judgment, intelligence and drive, Dar received a bachelor's degree in business with a major in accounting from the University of Wisconsin and spent nearly 40 years as a banker, joining the First National Bank of Wisconsin Rapids (now U.S. Bank) as an auditor in 1955, and serving over time as the bank's comptroller, assistant to the president, vice president, and executive vice president. Named president in 1969, he held that position until his retirement in 1986, and remained on the bank's board of directors until 1994. Under his leadership, the bank prospered and saw its assets grow from $22 million to $120 million. For 50 years, Dar was also a director and officer of the Bank-A-Count Corporation of Rudolph, and he served for many years as a director of Pittsville Homes. Before "retiring" in 1986, Dar and his partner, Pat Daly, had begun buying land in Juneau County for conversion to irrigated farmland, an investment that soon landed them in the business of farming themselves, and farming became Dar's passion. Thirty years later the resulting business, B & D Farms and Central Wisconsin Farms, harvests 900 tractor-trailer loads of potatoes annually. As a civic leader, Dar was active in countless community organizations. Over the years, he served at various times as an officer or director of the Wisconsin Bankers Association, the Wisconsin Rapids Area Chamber of Commerce, the Riverview Hospital Association, the Riverview Health Care Foundation, the South Wood County Chapter of the American Red Cross, the South Wood County Economic Development Corporation, the Amann Foundation, the South Wood County United Fund, the South Wood County YMCA, and the Midstate Technical College Foundation. He was chairman of the Wisconsin Rapids Industrial Development Commission and, as a banker, financed the first business in the city's industrial park. A Rotary Paul Harris Fellow, and one of the longest-serving members of the Wisconsin Rapids Rotary Club, he remained active in Rotary and in a local investment club until his death, and he especially enjoyed the meetings of the informal lunch group of retired business leaders dubbed the "Has Beens".
He loved the outdoors and for his entire life was an active hunter and fisherman, taking autumn duck hunting expeditions to Saskatchewan for 45 consecutive years. He found special delight in the mountains of the west with trips to the Canadian Rockies, Alaska, Montana, Colorado, and Yellowstone Park among his favorites. In recent years, his love of the outdoors led him to acquire and tend 80 acres of wetlands and prairie on the Yellow River in Juneau County as a family nature preserve. As a hopeless visionary, he looked to the future, and took pride in planting seeds that would bear fruit generations after his passing, whether plum trees, investments, businesses, the education of his grandchildren, or the imparting of strength of character.
More than any of his other accomplishments, Dar's life was defined in later years by his role as a patriarch, counselor, and pillar of strength to his extended family and unofficial family. An endless source of guidance, insights, and support, he influenced the lives of not only his four children and 11 grandchildren, but countless friends and family in times of personal or financial difficulty, with wisdom, comfort, and assistance. Always his role was grounded in integrity and values.
Dar is survived by two sons, Doug Blanke of Stillwater, Minn., and Scott (Ann) Blanke of Rudolph; two daughters, Linda (Mike) Pagel of Richmond, Va., and Nancy (Don) Hess of Plover; 11 grandchildren, Catherine "Kit" Blanke, Rebecca (Dan) Kohaut, Nathan (Jessica) Pagel, Ben Pagel, Andy Blanke, Jack Blanke, Brian Hess, Tim (Charys) Hess, Sam Hess, Bitsy Hess, and Lindy Hess; two great-grandchildren, John Kohaut and Xander Hess; three brothers, Mel (Florence) Blanke, Robert Blanke, and Roy (Audrey) Blanke; and a sister, Anita Rosleck. He was preceded in death by his parents; his wife, Betty; and sisters, Caroline and Dorothy.
Darwin was a joy to be around and will be greatly missed by everyone who knew him.
---
Edited: Friday, May 6, 2016