Bank-A-Count Acquires National Payment Book Company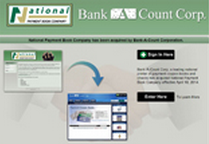 Thursday, Jun 26, 2014
Based in Rudolph, Wisconsin, Bank-A-Count Corporation recently acquired the customer base of National Payment Book Company of Stillwater, Oklahoma. NPBC clients were transitioned to Bank-A-Count systems in April in a joint effort between both companies.
Scott Blanke, Bank-A-Count President, reports, "This acquisition fits nicely with the clients we already serve in that market. We are well positioned to deliver the same high-quality service National Payment Book Company provided to their clients in the past.
Bank-A-Count has more than 59 years of experience and prides itself on a strong customer service focus, plus multiple product lines that support clients' various digital printing needs. Bank-A-Count clients include banks and credit unions, property management firms, and many other businesses through its primary product lines of personal and business checks and payment coupon booklets.
Bank-A-Count operates two manufacturing facilities in Rudolph and an administrative office in Wisconsin Rapids, WI. The privately held company has been in business since 1955 and employs 45 workers. Blanke is confident that the company has sufficient capacity among its existing staff and current manufacturing facilities to fully support these new clients and order volumes.
---
Edited: Monday, May 9, 2016