Property Management Products and Services
Property Management Payment Coupons, Statements, and Business Products from Bank-A-Count are guaranteed to benefit any of your property management needs. Whether it's Payment Coupon Books or Statements to receive payments or everyday business items such as stamps and deposit books, we guarantee a quality product and will do whatever it takes to process your order.
Payment Coupon Books
We offer three types of Property Management Payment Coupons:Personalized, Generic, and Breakout. All of these coupons save you money versus monthly billings, are tailored to your specifications, and have insert capabilities.
Statements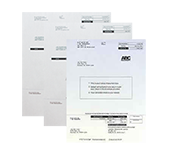 Statements are for billings that are annual, quarterly, or needed for any special assessments. We offer two formats:a standard 6" statement that is the same size as regular coupons, or an 8-1/2" statement. We can use custom imaging on your statements to advertise your property management company with your name or logo.
Business Products
When it comes to Business Products, we offer a variety of
stamps
,
deposit books
, and
checks
to compliment Payment Coupons and Statements. You can save up to 22-34% with Value Bundles instead of purchasing the items separately. These are great supplemental materials that are used on a daily basis in property management businesses.