Contact Us
Select a Stamps Subcategory or Product
Custom and stock pre-inked rubber stamps for endorsements, signatures and more!
Not available in California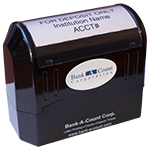 Endorsement Stamps
Endorsing checks just got easier!
Custom layout to fit any requirement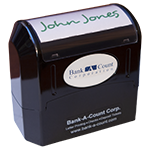 Signature Stamps
Save time with a replica of your signature
Use for checks, letters, and much more!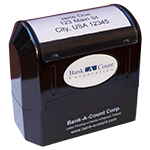 Address Stamps
Apply addresses quickly
Great gift idea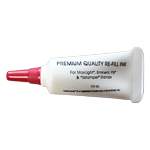 Stamp Ink Refills
Always best to keep extra ink on hand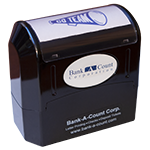 Custom Stamps
Completely design your own stamp
Text, Logo, and Photo options
Seasonal Stamps
Pre-Inked rubber stamp with a variety of festive designs and greetings.
Not available in California
Pre Inked Stock Stamps
Choose a low cost pre-inked stamp with your choice of popular standard wording for general office use.
Not available in California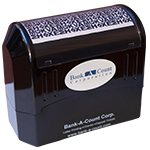 Security Stamp
The security stamp is used to cover personal and sensitive information.
Not available in California
About Stamps:
Custom stamps from Bank-A-Count save time and money. Personalized stamps come in a variety of shapes and sizes, from the Signature Stamp to the Endorsement Stamp. These rubber stamps are sure to fulfill your stamping needs. Bank-A-Count's pre-inked personalized stamps are designed to work without a stamp pad, making them perfect for a variety of uses. Custom stamps allow you to make thousands of impressions without running out of ink!
Tired of endorsing each check by hand? Check out our endorsement rubber stamps! Each endorsement stamp features 3 to 8 lines of information and comes in black or red ink. This stamp is sure to increase the efficiency level of your small business.
Our signature ink stamps allow you to sign checks and other documents with ease. Available in a variety of sizes, this stamp is sure to simplify your business processes.
Do you mail a lot of information to the same address? Do you hate writing out your return address on every mailing? Use our address ink stamps to solve this problem. These stamps can be used to address envelopes or be used as a return address stamp.
Each custom stamp is personalized for your needs and comes in four color options: black, blue, green, or red. Just enter in your information on our secure site.
Pre-inked stock stamps come pre-designed with a set color. Popular styles include the For Deposit Only stamp, the Confidential stamp, and the Copy stamp. The security stamp comes in black and replaces the need for a shredder!
Running out of ink? Bank-A-Count also offers stamp ink refills in black, blue, green, or red. These custom stamp ink refills allow for further use of your rubber stamps.
Each custom stamp can be utilized for personal or business use. All ink stamps are available for rush delivery. Custom stamps are available at a low cost – save 50% or more compared to most other sites.
Why write it when you can stamp it?
Have questions about any of our products? Give us a call.
Speak to one of our knowledgeable customer service reps at
1-800-445-3913.