Contact Us
Select a Pre-Inked Endorsement Stamp to Order
Pre-Inked endorsement stamps
Not available in California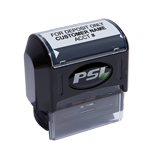 Small Endorsement Stamp
Choose a small pre-inked endorsement stamp for up to three lines of deposit information.
Not available in California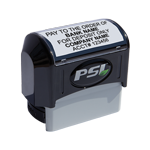 Medium Endorsement Stamp
Choose a medium pre-inked endorsement stamp for up to five lines of deposit information.
Not available in California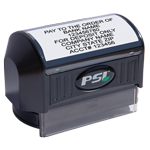 Large Endorsement Stamp
Choose a large pre-inked endorsement stamp for up to eight lines of deposit information.
Not available in California
About Endorsement Stamps:
A pre inked endorsement stamp allows you to record deposit information without having to handwrite it – saving you time and effort. These stamps can be used to endorse checks or bank deposit slips.
Each bank deposit stamp comes in either black or red. You can also choose the number of lines of information to record: 3 lines with our Small Endorsement Stamp, 5 lines with our Medium Endorsement Stamp, or 8 lines with our Large Endorsement Stamp.
Each bank deposit stamp is easy to use and re-ink. Ordering your endorsement stamp is easy – simply input your information on our secure site.
For added security, make sure to include For Deposit Only on your endorsement stamp. This ensures that your checks always get properly deposited.
Have questions about any of our products? Give us a call.
Speak to one of our knowledgeable customer service reps at
1-800-445-3913.