Contact Us
Custom Pre-Inked Stamps
Up to 8 lines of information
Not available in California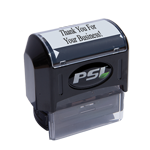 Small Custom Pre Inked Stamp
The "Small" stamp has 3 lines of print and measures: 11/16" X 1 15/16"(17mm X 49mm).
Not available in California
Medium Custom Pre Inked Stamp
The "Medium" stamp has 4 lines of print and measures: 7/8" X 2 3/8" (22mm X 60mm).
Not available in California
Large Custom Pre Inked Stamp
The "Large" stamp has 5 lines of print and measures: 1" X 2 5/8" (25mm X 66mm).
Not available in California
Extra Large Custom Pre Inked Stamp
This "Extra Large" stamp has 8 lines of print and measures:1 1/2" X 3 1/4" (38mm X 83mm).
Not available in California
About Custom Stamps:
Each personalized stamp from Bank-A-Count holds up to 8 lines of information. These pre inked customized stamps are easy to use for a variety of projects.
Every personalized stamp is designed to work without a stamp pad. These low cost customized stamps allow you to save 50% or more compared with other sites.
Customized stamps are available in four sizes: small, medium, large, and extra large. There is also a Thank You stamp option.
Each personalized stamp can be purchased in a variety of colors.
Have questions about any of our products? Give us a call.
Speak to one of our knowledgeable customer service reps at
1-800-445-3913.