Place an Order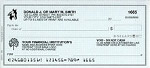 Order custom printed checks and related products
Read More About Checks
Collecting payments from clients is easier when using a payment coupon book from Bank A Count Corporation.
Read More About Payment Coupons
Collect payments from your customers.
Read More About Statements
Custom and stock pre-inked rubber stamps for endorsements, signatures and more!
Not available in California
Read More About Stamps

Deposit tickets, deposit books and related
Read More About Deposit Products
Use up to 10 advertising messages in the book or a special message to print on the final coupon.
Read More About Savings Clubs