Security Features For Checks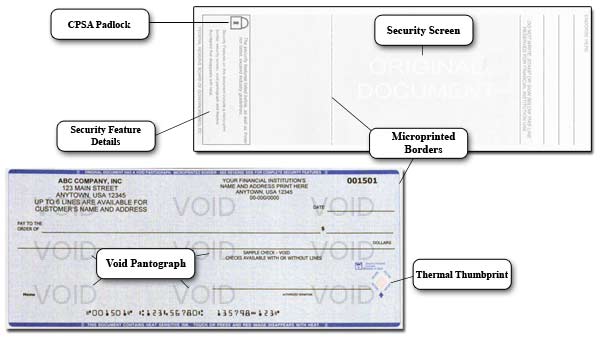 Feature
Benefits
CPSA Padlock
The Enhanced Check Security Features Padlock Icon denotes incorporation of enhanced security features in checks. It is the certification mark of the Check Payment Systems Association.
Security Screen
The words "Original Document" are offset against a grey background. This offset print makes it harder to copy your checks.
Thermal Thumbprint
A red padlock image is printed on the checks with special ink, and disappears with heat.
Microprinted Borders
Borders printed by repeating "Original Document" in tiny letters are very difficult to reproduce.
Void Pantograph
The word "VOID" appears when checks are photographed or photocopied.
These checks include MICR encoding for your bank with additional security features for fraud prevention that may not be listed here.
Still have questions? Give us a call.
Speak to one of our knowledgeable customer service reps at
1-800-675-4151.