Benefits of Personal Checks
From Bank-A-Count Corporation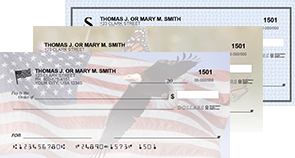 Value Added Services
NO CONTRACT REQUIRED* (service agreement available upon request)
Confidentiality Policy/SOC2 Audit
All Check Designs Same Low Price - includes standard shipping!
Industry Leading Customer Service
Free Standard Shipping* - rush shipping available at additional costs
Secure Return Mail Address - no financial institution name is shown on mailing label
Easy to use online order site
In Box Pricing* - each order includes the price your account holder should deduct from their checking account
No Minimum Order
Custom Center Image Check - financial institution logo printed in the background center of check at no additional cost
Custom Sell Sheets - designed to conveniently display your center image check and pricing
In-The-Box Marketing Messages* - available at no charge
Fast Turnaround - processed and shipped in one working day
No Charge Reprints
Free Personal Checks For Employees
Free Monograms And Accents* - custom accents available for a minimal one-time charge
Lowest Prices In The Market - compare the Bank-A-Count prices to what you currently pay!
REDUCE EXPENSES, INCREASE INCOME, LOWER ACCOUNT HOLDERS'
CHECK PRICES WITH BANK-A-COUNT
*SERVICES THAT OTHER VENDORS CHARGE FOR OR DON'T OFFER
Financial Institutions:
Please contact us for complete pricing, samplers, or more information.