Benefits of Personal Checks
from Bank-A-Count Corporation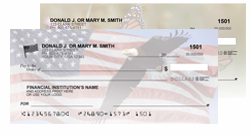 Value Added Services

NO CONTRACT REQUIRED
* - Service Agreement available upon request

Confidentiality Policy / SOC2 Audit

All Check Designs Same Low Price
- Our standard check packets include 150 singles (wallet) style or 125 duplicate checks and include standard shipping at no additional cost.*

Industry Leading Customer Service
- When you contact Bank-A-Count, you call a convenient toll-free number that puts you in direct contact with a customer service rep at the production plant, not a complicated switchboard.

Free Standard Shipping
* - All personal check prices include standard bulk mail shipping. Rush shipping is also available at additional costs.

Secure Return Mail Address
- All checks are shipped in a secure flat package. Only the return address (no bank name) is shown on the mailing label. No information is shown on the label or package indicating that the package contains financial documents.

Easy to Use Online Order Site
- When you order from Bank-A-Count you'll find it's the easiest order site in the industry.

Easy to Use Customer Reorder Site
- Bank-A-Count will provide you with a link that you can add to your website for your customers to reorder checks.

In Box Pricing
* - Each order will include the price that your customer should deduct from their checking account. The price printed is the total amount you will charge your customer.

No Minimum Order
- Order all your customers' checks or only order checks that the bank pays for. Either way you'll receive the same low price.

Custom Center Image Check
- We will provide you a check with your bank logo printed in the background center of the check at no additional cost. Use for branding and marketing of your institution.

Custom Flashcards
* - Flashcards are provided for your employees to show customers your unique center image check, along with pricing for all check products. In addition a section is provided to highlight other services you offer.

In-The-Box Marketing Messages
* - Custom printed marketing messages may be printed on the Inspection notice, Reorder form, and Back cover of each check order. Use this free feature to promote your other products and services.

Fast Turnaround
- Personal check orders are normally processed and shipped in just one working day! In fact, many orders placed early in the day are shipped that very same day.

No Charge Reprints
- Incorrect orders are printed and shipped standard delivery at no charge.

Free Personal Checks for Employees

Free Monograms and Accents
* - All standard monograms and accents are available on all check designs at no charge. Custom accents are available for a minimal one-time charge.

Lowest Prices in the Market
- Compare the Bank-A-Count low price (which includes shipping) to the total price you currently pay (be sure to add in shipping charges from your current invoice) and you'll find savings of $5.00 or more per box.
REDUCE EXPENSES, INCREASE INCOME, LOWER MEMBERS'
CHECK PRICES WITH BANK-A-COUNT

*SERVICES THAT OTHER VENDORS CHARGE FOR OR DON'T OFFER
Have questions about any of our products? Give us a call.
Speak to one of our knowledgeable customer service reps at
1-800-445-3913.